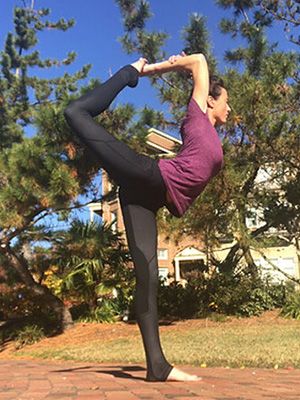 What's your name?
Kirsten Anderson @kirstenasana_ll
- What are you doing when you're not on your mat?
Handstands ;) I travel when I can, and you can often find me sky diving in tandem, taking care of my family, or working behind the bar at The Cheesecake Factory!
- Any mini-yogis or furry yogis running around?
Yes! My little mini Joie. She's such a joy to my life. I began as "Auntie," then "Auntie Mommy," and now I'm blessed to know I've earned the title as "Mom" in her life.
- What is your favorite pose?
Natarajasana: Lord of the Dancer Pose. It's such powerful, elegant balancing pose. I enjoy feeling into this posture, and accepting that some days my body is not in rhythm and my dance is a little off beat.
- Who is your yoga inspiration?
I'm inspired by all the yogis around me. I practice at many different studios, and I find that every instructor has something to offer me each time I step on my mat. Mostly, the ladies who were by my side during my training. Thank you.
@kerrimersereau
@ireserena
@michellennunez
@revengeofthesithh
- If you could practice anywhere on Earth, where would you practice?
Bora Bora.
- Tell me a joke.
What does an astronaut do to get ready for a party? They plan-et.